Since I'm sort of a newbie book blogger, I decided to join in on the fun that is the Book Blogger Appreciation Week to meet and make make friends with fellow book bloggers. :)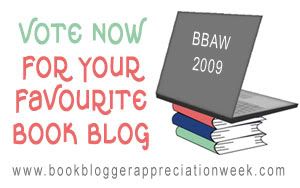 So I went ahead and grabbed this
meme
for (new) BBAW participants:
1. What has been one of the highlights of blogging for you?
I love sharing with other book lovers the books that made me really squeak with delight. And I especially love hearing their thoughts on the reviews that I make! :)
2. What blogger has helped you out with your blog by answering questions, linking to you, or inspiring you?
Hmm, I have to say all the bloggers who took the time to visit my blog, read my reviews, and even drop a comment on some of them. I can't remember all of them but off the top of my head are Melissa of Melissa's Bookshelf, Sheila of Bookjourney and Velvet of vvb32 reads. :)
3) What one question do you have about BBAW that someone who participated last year could answer?
Okay, here's one: What did you enjoy most during last year's BBAW? :)